A comedic, heart-felt reminder of the power of connection.
Director's Note
May this work empower you to live playfully, connect ferociously, and rethink your conception of love, just as it has done for me. Beth was taught to believe that a "good life" was one filled with normalcy--but this play reminds us that a good life is one that overflows with love of all kinds: the love among friends, family, lovers, strangers, spirits, and pets, as well as the love we hold for ourselves. In prioritizing the people and things that bring us joy--those we love--we find solace from insecurity, doubt, angst and aimlessness. Just as Lissa, Beth, Brody, and Thomas do, we all already have love in our lives. Sometimes it just takes us a while to notice it.
The Team
Directed by Ruthie Allen
Choreography by Dikenna Ogbo
Violinist: Phil Riddick
Costume Design by Betsy Scarisbrick
Set Design by Jaya Kuic
Light Design by Genna Crites
Prop Design by Nellie Wise
Sound Design by Phil Riddick
Produced by Gage Tarlton and Calliope George
Stage Managed by Amelia Jerden
Coverage
Daily Tar Heel Review by Karen Stahl
"A marriage of playwright Gage Tarlton's authentic writing and Ruthie Allen's effective, relatable directing."
"Allen's representation of mental illness and depression throughout the piece was subtly genius. She used Jaya Mamas' highly realistic scenic design to emphasize Lissa's deteriorating mental health – her room becomes increasingly messy and she does not change costumes for scenes at a time. In keeping Brody and Lissa onstage throughout nearly the entire show, Allen immersed the audience in the nuances of the characters' lives to create a genuine connection. That genuine connection was the thread that propelled the entire production."
"Kenan Theatre Company's "Just Like Now" undoubtedly hit the mark in showing how to navigate messy and unfiltered reality through the power of relationships."
Media Hub Story by Jenni Ciesielski
"At the insistence of his friend Ruthie Allen, who's directing "Just Like Now," Tarlton started to write the perfect rom-com he wanted to relate to when he was a teenager. He looked to his own life and dating experiences as he wrote and realized that in order to tell an authentic story, he'd have to acknowledge that it's not always going to end in an epic proposal or finding your soulmate."
Daily Tar Heel Story by Jamie Cummings
""It's a joyous piece of art, but at the same time has these deeper meanings and themes that a lot of people might identify with and therefore feel represented,"
Allen said."
Accolades
Alpha Psi Omega Oppie Award for Best New Play
Off-Broadway Normal Ave NAP Series Semi-Finalist
UNC Provost Committee for LGBTQ+ Life Commission Award
A Note on the Development
Gage and I met working on Cabaret as actor and costume designer. We became fast friends and collaborators. In March of 2018, Gage told me he had an idea for a play and sent me the first nine pages. We realized we just might have something worth pursuing, and thus began the development of this new work. Gage wrote, we workshopped, Gage edited, we workshopped, Gage continued to workshop the script over the summer at Williamstown Theatre Festival. Once we had a decent script, we approached the Kenan Theatre Company- a company that primarily produces classic plays. Somehow, we finagled Just Like Now into their mainstage season with me as director (the youngest director of a ktc mainstage production to date). Following our world premiere production, Just Like Now has been performed at Michigan State University and Sitting Shotgun Theatre in New York City. -Ruthie Allen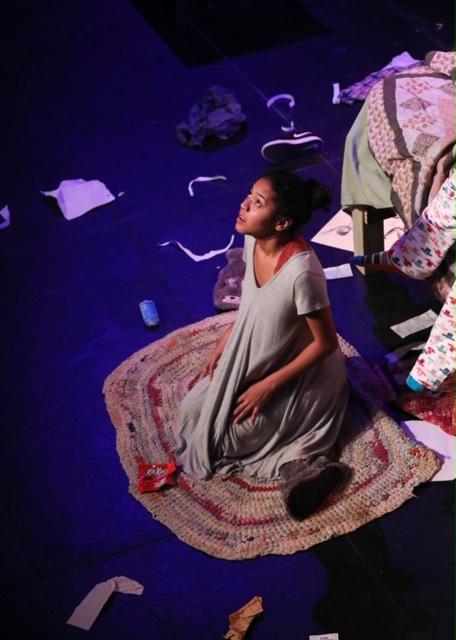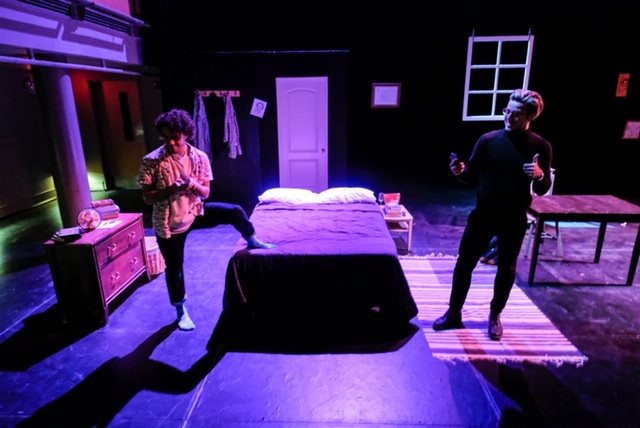 All Just Like Now Rehearsal Stills by Huth Photo. Just Like Now Flyer Graphic by Nina Tan.